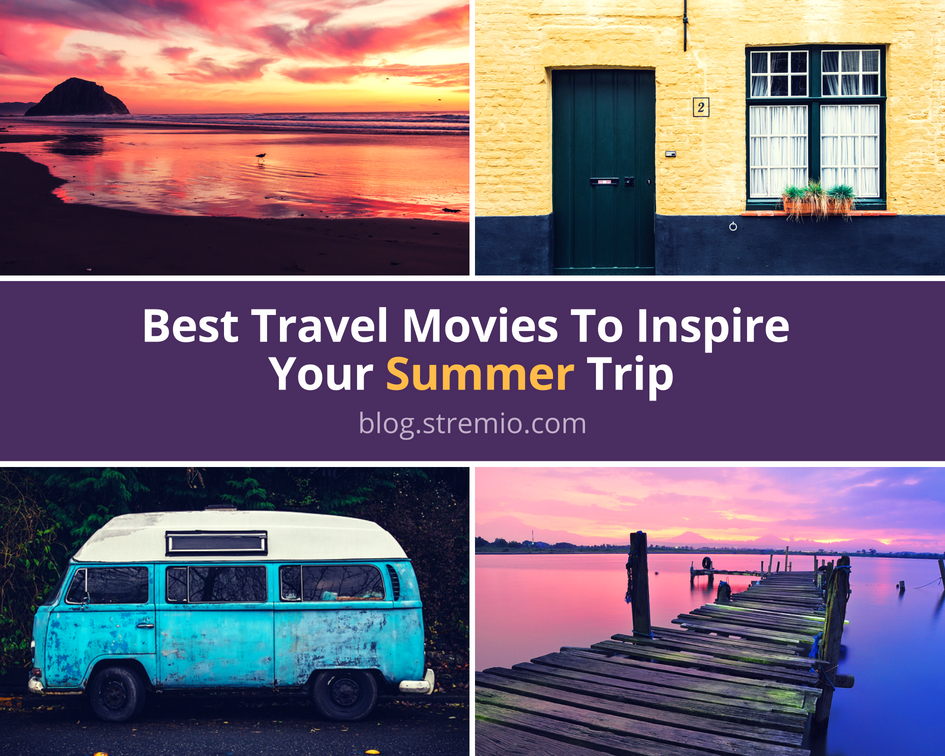 Aaah, can you smell the summer? It's almost here and we all start to daydream of the places we want to visit on our holiday. Doesn't matter how you get there – by foot, hitchhiking, boat, train, bus or a plane, it's the trip that really matters!
To get you in the right mood for your summer adventure, we've selected one of the best road trip movies that will inspire you to hit the road! They might be different genres but they all share one thing – the beauty and excitement of traveling.  
Sideways (2004)
Miles Raymond, an unsuccessful writer and schoolteacher goes on a week-long voyage through the wine regions of California. He takes his friend Jack, a little-known actor who wants to enjoy the last bachelor week before his wedding. During the trip, Jack tries to enjoy the time as much as possible and Miles has to help his friend out of the most unexpected and incredible situations.
Great movie for wine lovers also. We guarantee you'll have a great time watching Sideways with the brilliant onscreen duo Paul Giamatti and Thomas Haden Church.
The Bucket list (2007)
Auto mechanic Carter Chambers and billionaire Edward Cole found themselves in the same hospital room with a diagnosis of cancer. They do not have much time left to live, and neither the irascible billionaire nor the simple auto mechanic can change their destiny. But before their life comes to an and, they make a list of the things that always wanted to do. Looking through fear and indecisiveness, they both go on an amazing journey, performing unrealistic actions. Racing on expensive cars, jumping with parachutes, traveling to different countries, this is just the beginning of their list. Who said that after a terrible diagnosis, life is over? It's just beginning!
Planes, Trains & Automobiles (1987)
Neal Page (Steve Martin) is a leading specialist in marketing and advertising. After a successful presentation, he goes home to his family. But because of the bad weather, all flights from New York are canceled, and Neal needs to get to Chicago to spend Thanksgiving with his loved ones. A fickle fellow, Del Griffith (John Candy), who also needs to go to Chicago, becomes Neal's companion.
Now, together, the two strangers both have to go home. The long journey turned out to be the most memorable adventure of their entire life!
The Trip (2010)
The famous British comedian, producer, and screenwriter Steve Coogan play himself, as well as his friend Rob Brydon. To make a good impression on his new girlfriend, Steve decides to take her on a tasting tour of the best restaurants in Northern England.
Unfortunately, however, she can't make it and Steve has to find somebody to go with him. That someone is his friend Rob Brydon. Not particularly eager to join Steve, Rob still agrees and they both hit the road. All the beautiful places and all the fantastic food awaits them! The adventures begin almost immediately. In the first hotel, Steve and Rob have to live in a room with one bed and this is just the beginning!
About Schmidt (2002)
This film tells the story of the life of Warren Schmidt (Jack Nicholson), an employee of an insurance company. After retiring, Warren begins to rethink the life he lived, and whether he could achieve all his dreams in career, marriage and family life. Schmidt's daughter hardly talks to him, living in Denver and intending to marry a man whom he does not approve at all. What to do now? Warren goes on a journey across the country to prevent this wedding, and at the same time to understand the meaning of his own life.
The Way (2010)
An American doctor arrives in the French Pyrenees to pick up the remains of his son who had died in a storm at the very beginning of the pilgrimage of the Way of St. James (The Camino de Santiago). Driven by the deepest sadness and desire to better understand his son, he decides to follow his path, leaving behind his well-adjusted measured life in California.
The remarkable directing debut of Emilio Estevez is a visual and emotional trip through the complexity of the human soul. 
Nebraska (2013)
Woody Grant is a stubborn elderly alcoholic living in a forgotten town. For days he watches TV, reads newspapers and talks with his neighbors. But one day Woody receives a letter informing him that he won a certain lottery and became the lucky owner of a one million dollars. To receive the prize, he needs to go to Lincoln, Nebraska. However, his wife and children do not believe that he won and try to dissuade him from this long trip, but they do not succeed. Along with him comes his youngest son David, for whom this is a very good opportunity to spend time with his father. A remarkable story about faith and will that you will leave you deeply touched. Without a doubt, a movie you will not forget any time soon!
The Darjeeling Limited (2007)
Three brothers: Peter, Jack, and Francis have not seen each other for a year since the funeral of their father. They meet on a train following the Himalayan narrow-gauge railway to Darjeeling, India. The tree of them are on the way to visit their mother, who runs a monastery there. This trip was organized by the older brother Francis, but he doesn't disclose the true reason for the trip, assuring his brothers that traveling through India would help them find themselves and strengthen the broken family ties. During the journey, the three of them will experience a lot of comical situations, various difficulties that they have to overcome, as well as the opportunity to eliminate contradictions between themselves.
Into the Wild (2007)
The film is based entirely on real-life events.
One day a young man from a well-off and prosperous family day decides to give up his comfortable life. He donates all his money to charity and leaves home and family, going to live alone in Alaska. He does not know what awaits him ahead but is sure that his life just needs to be changed. A remarkable movie from director Sean Pean, with breathtaking landscapes and amazing music from Eddie Vedder (Pearl Jam) that everyone should watch.
Eat, Pray, Love (2010)
The film's script is based on the life of the famous author Elizabeth Gilbert, who traveled around the world in search of her own happiness. The main role is played by the beautiful Julia Roberts.
Julia Robert's character is living a family life for many years, but so far without children. One day she realizes that nothing is holding her next to her husband, work, and city. So she decides to leave everything. Taking a decisive step, Elizabeth discovers a whole world full of joy, sorrow, love and spiritual wealth. After visiting Italy, she knew what pleasure is. India helps her to find a religion. Indonesia helps her find harmony and love in her life.
Eat, pray, love is a beautiful melodrama that will deeply inspire you, we definitely guarantee it!
The Secret Life of Walter Mitty (2013)
Walter Mitty (Ben Stiller) is an average, modest and unremarkable middle-aged man. He works in the popular "Life" magazine, but he lives a sad life without anything interesting happening to him. His work is boring and monotonous and the only thing that pleases Walter is an attractive colleague he cannot approach because of his shyness. Walter tends to dream a lot and in his head, he makes amazing trips and also presents himself as a superhero, but in life, he never does anything unusual.
To release the last issue of the magazine in paper form, Walter needs to find the missing photograph of the famous traveler Sean O'Connell (Sean Penn). But finding the photo is very difficult. It turns out that is much easier to find Shawn himself. Going to look for O'Connell, Walter does not even suspect that this trip would be the most exciting thing that ever happened to him, and would also turn his whole life upside down.
That was our list. Is there a movie that inspired you to travel but is not here? Let us know in the comments section below!
And remember that you can watch all of these films, and many more, on Stremio!