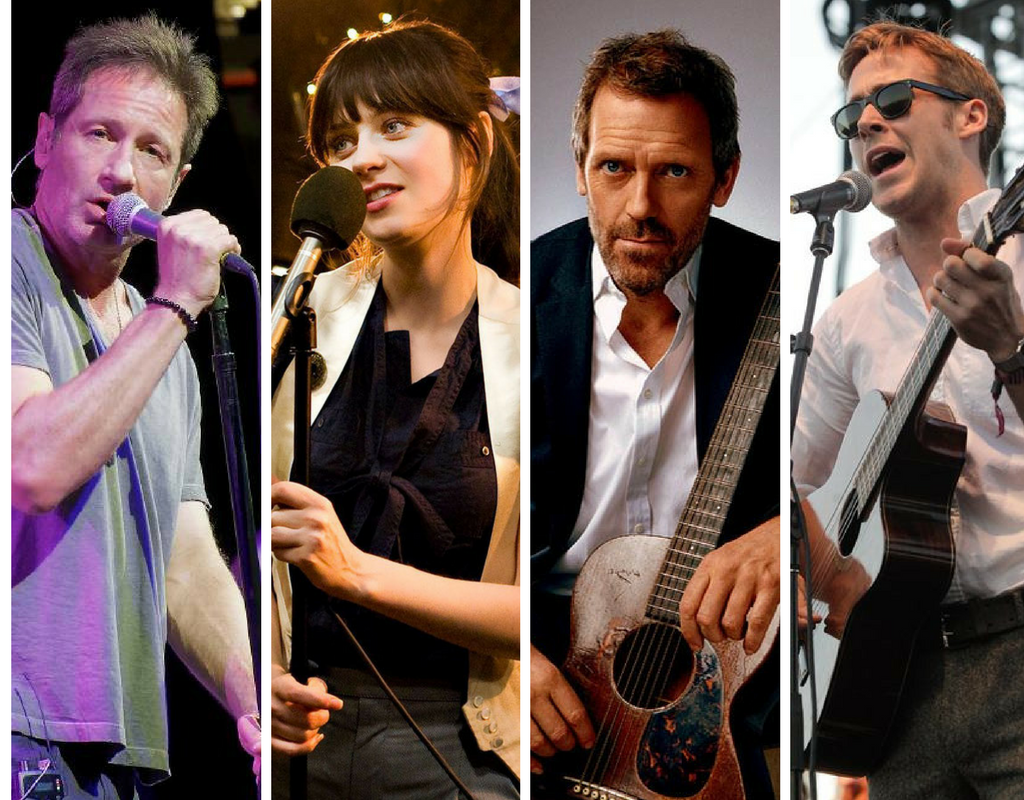 Not only that they can act, but they can sure sign as well! 
Artistic people often excel in more than one art form. A good example for that is the overlap between the music and cinema worlds. Many actors through the years have displayed a great singing talent, and some of them have even turned music into a second, alternative career.
When you look at some of the actors in the list, you may even wonder what keeps them in the cinema.  Some of them are so good, that they could easily become singers, create music bands and travel around the world with tours. It turns out that many of them actually do! But as we said, a talented person can be good at more than one art. So, check out our list of famous actors and actresses who have a music career.
1. Russell Crowe
https://www.youtube.com/watch?v=lNfomuY2ysg
All his life, Russell dreamed of becoming a professional rock performer, so he was seriously engaged with music for more than 30 years. In the mid-80s he founded the band "Roman Antix", which is called "30 Odd Foot of Grunts" now. Moreover, Crowe is the author of all the songs of this band. Music, according to the actor, brings him more fun than acting in a movie. Great job Russel, great job indeed!
2. Antonio Banderas
As a child, Banderas wanted to become a professional football player. Unfortunately for him, he broke his leg when he was only 14 years old and this put an end to this dream. But then he discovered something else.
His passion for music was ignited when he watched the 70's hippie musical "Hair". The movie had a strong influence on the young Banderas and after that, it was game on! He enrolled in acting school where he learned how to sing and dance. For the first time, he showed his singing talent to the world by singing in the film "Desperado". The performance was one of the most memorable and impressive parts of the movie. After "Desperado", Banderas starred in "The Phantom of the Opera", a role that finally affirmed the status of Banderas as a great singer.
3. Mark Wahlberg
The difficult childhood and hooligan past of Mark Wahlberg resulted in his music and lyrics in the famous 80's pop group "New Kids on the Block", (yeah, that's right, if you don't believe us, google it!) and later on in the hip-hop group "Marky Mark and the Funky Bunch". After the release of the second album, Mark abandoned the music and tried to test his acting skills. The last time when we saw him singing was in the movie "Rock Star" (2001). I am not just saying this, Mark really knows how to rap and Eminem would have had a serious competition if he didn't quit the hip-hop stage.
4. Bruce Willis
https://www.youtube.com/watch?v=a3vMKSA0OKc
That one was unexpected, wasn't it! Since a very young age, Bruce dreamed of getting on the big music stage. He played the harmonica, and also sang in the folklore blues band "The Accelerators" and played in the school drama circle. As a result, he released not one, but three solo country albums: "The Return of Bruno" in 1987, "If It Doesn't Kill You, It Just Makes You Stronger" in 1989 and "Classic Bruce Willis: The Universal Masters Collection" in 2001. Even now, he often tours under the pseudonym "Bruno". Is there something Bruce can't do? Seriously?
5. Hugh Laurie
Who doesn't like Hugh Laurie? Despite becoming popular with his role as doctor Gregory House in the Fox series "House M.D.", Laurie also has a pretty serious music career. It all started when he was ten. He heard a Muddy Waters song on the radio, and the track struck him once and for all. It also influenced his musical taste and shaped his style. Laurie loves to perform live and can play not only the guitar but also the piano, drums, and saxophone. Also, "Dr. House" is a keyboardist for the rock band "Band From TV", which consists of actors from American television series. They periodically give charity concerts. Not bad, eh?
6. Ryan Gosling
It turned out that Ryan's brilliant role in "La-La-Land" was no surprise. He knows a thing or two when it comes to music, too. When he was a kid, Gosling mastered the guitar, piano, and singing. Thanks to his talents, he went to the famous TV show "The Mickey Mouse Club". To date, Ryan plays and sings in the musical group "Dead Man's Bones", created by him together with Zach Shields. In 2008, the band released their first album "In The Room Where You Sleep" and filmed their first video.
7. Scarlett Johansson
The deep, penetrating voice and a pleasant appearance of the actress brought her great success on the big screen. Since childhood, little Scarlett always intended to become an actress in musical theater. She even took singing lessons. Over time, the desire to become a musical star extinguished, but Johansson continues to sing even today. In 2008, she released the album "Anywhere I Lay My Head" with cover songs by Tom Waits, and in 2009 she recorded her second album "Break Up", which reflects the work of Brigitte Bardot and Serge Gainsbourg. Seriously, I'm trying really hard not to fall in love with her right now.
8. David Duchovny
It turned out that our beloved FBI agent Fox Mulder is one hell of a singer, and a great songwriter as well! The actor presented his debut CD called "Hell or Highwater" in 2015. The album includes 12 tracks that David wrote himself. "Creating this record is like realizing my dream, although I never had such a dream," Duchovny told Rolling Stone magazine. "I still find it hard to believe that this happened." But these songs represent a real expression of my feelings, so I was looking forward to sharing them with everyone." Well done David, well done! Better late than never.
9. Zooey Deschanel
It all began during the filming of the movie "The Go-Getter " – director Martin Hines suggested that the Zooey Deschanel singed for the final credits with the folk musician M. Ward and she said "yes". When Ward heard them play, he was so impressed that he suggested that they should record together. This is how the "She & Him" duo was born. At the moment, they have released three albums already. We just can't get enough of Zooey and this is clearly not the end of the unusual project.
10. Robert Pattinson
Keen on music since childhood, Robert learned to play the piano at four years old, and at five he already knew how to play classical guitar as well. As a teenager, he played the guitar in a little-known band called "Bad Girls." At the age of 12, he abandoned music and only at age 20 picked up the guitar again. For the movie "Twilight", which brought him worldwide fame, Robert wrote and performed two ballads: "Never Think" and "Let Me Sign".