Exciting times, Stremio fans, exciting times, indeed! We've rolled out the beta for our newest, shiny desktop app and you can now install and test Stremio 4.0 beta. 
The first big change you'll notice is the design of the app. While we have not made any significant changes to where things are, the new Stremio interface is much sleeker. The new Board now shows bigger thumbnails so it's easier than ever before to navigate through your content. The same goes for the library. We have also tweaked the way the calendar looks.
Functionality-wise, you'll see that we have moved the add-ons within the platform. They now have their own icon in the upper right corner, and when you click on it, all the available add-ons are displayed on a new screen, similar to the one on our website.
Changing and adjusting subtitles has also been simplified; we have also added a functionality that lets you change the subtitles size.
Social sharing is also much more accessible than it was before.
The most significant improvement that we implemented was the player. The Stremio 4.0 build comes with a built-in MPV player (libmpv). This change means that the player's performance will be much better.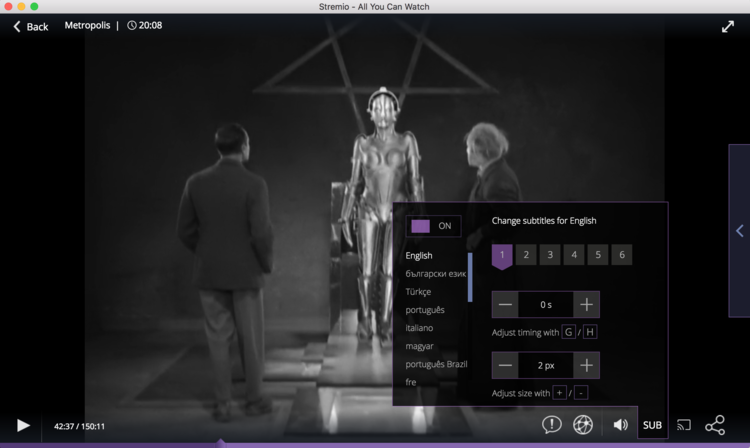 Here are a couple of things we introduced based on your feedback:
The possibility to pick your audio stream;
An indicator for the movies, videos or shows you've watched.
Now, as we mentioned earlier, this is still a beta, so there are things we know may not be working as expected. Here are the ones we've noticed so far:
Subtitles drag&drop
Torrents drag&drop
Magnet link paste
Auto-updater
If you come across another functionality that is not acting as it's supposed to, make sure to let us know so we can fix it! As always, your feedback will be greatly appreciated!
In the meantime, head over to the Stremio 4.0 page to download your beta and take it for a spin:
[mks_button size="large" title="Get Stremio 4.0″ style="rounded" url="https://www.stremio.com/downloads" target="_blank" bg_color="#633f7d" txt_color="#edb636″ icon="" icon_type="" nofollow="0″]
* Linux users: there is temporarily a bug in the website that points to the wrong URL when you're on Ubuntu. Use this URL: Download Stremio 4.0 beta for Ubuntu. 
AppImages are ran by chmod +x and then running them.