This time last year, we held the first ever Stremio Add-on Competition. We received a large number of great applications, and we gave away $5,000 in prizes.

This is why we decided to make the competition an annual event and run it again this year. Drumroll please: we're announcing the second edition of the Stremio Add-On Competition!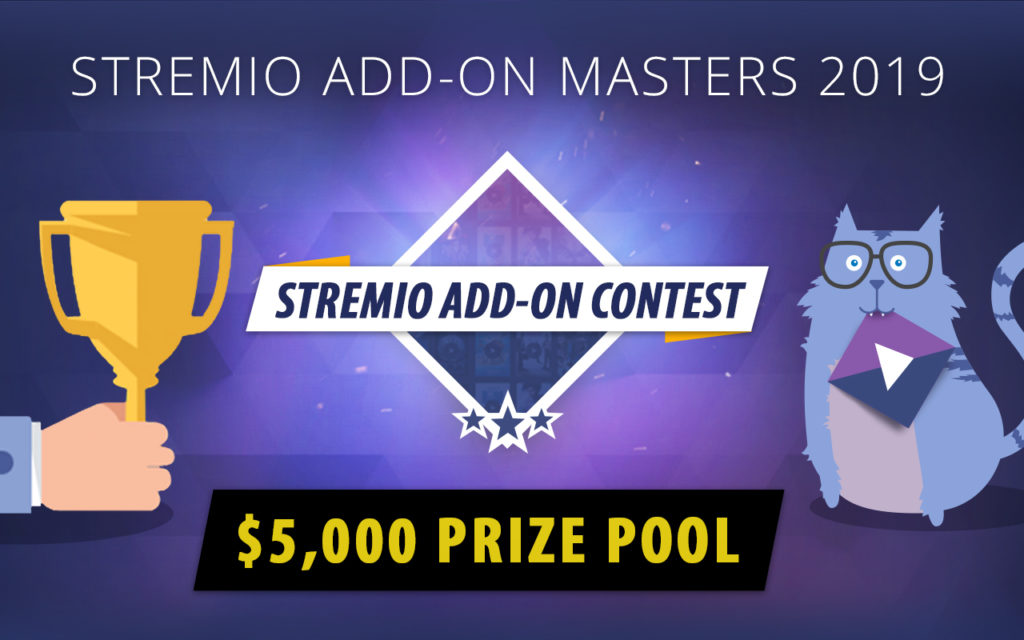 We will give away 4 prizes: one by the Stremio team and three more that will be distributed based on the Stremio community vote. This is how we will distribute the $5,000 prize pool:

Stremio Judge panel vote: $2,000 or the equivalent of $2,000 in Bitcoin;
First place, community vote: $1,500 or the equivalent of $1,500 in Bitcoin;
Second place, community vote: $1,000 or the equivalent of $1,000 in Bitcoin;
Third place, community vote: $500 or the equivalent of $500 in Bitcoin.
Sound enticing? Waste no time and start working on your add-on!
We will be accepting applications by May 20, 2019 – this will give you plenty of time to create more than one addon and increase your chances of winning a prize. However, we encourage you not to wait until the last minute to submit your application!

The New Stremio Add-On SDK
Since last year, we have upgraded our add-on SDK and we've made creating a Stremio add-on a thousand times easier. You can now write your add-on in any programming language you wish, and the entire process has been simplified significantly. Keep an eye on this blog as we will be releasing more documentation and guidelines on the SDK.

We have also started creating a series of video tutorials on making add-ons; you can see the first one here.

Add-on competition FAQ
Q: Do I need programming skills to participate?
A: Yes. You need to be able to code in order to create an add-on.
Q: Do I need to host the add-on I create?
A: You can if you want to, but you don't have to (we recommend that you host it, though). A link to the Git repository of the add-on is all that's required for the competition.
Q: Can I submit more than one add-on?
A: Absolutely! You can submit as many add-ons as you wish. The more submissions you enter, the higher your chances of winning a prize or two.
Q: Can I create an add-on that is country-specific?
A: Of course! Want to bring Greek soap operas to Stremio? Make an add-on for that! You're a fan of Argentinian documentaries? Make an add-on! Want to watch a Brazilian TV channel on Stremio? You know the drill, make an add-on!
Q: Can I ask my friends to vote for my add-on?
A: Yes! Once the voting window opens, you can invite your friends, your relatives, your classmates, your coworkers and even Carol from accounting!
Q: What's the answer to the Universe?
A: 42 and purple cats.